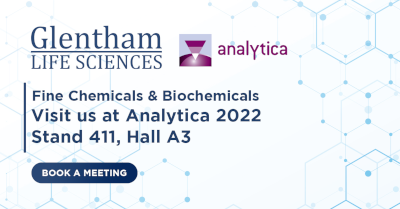 Upcoming Exhibition: Analytica 2022
Glentham is exhibiting at Analytica in Munich on 21st - 24th June 2022
Upcoming Exhibition: Analytica 2022
Glentham is exhibiting at Analytica in Munich on 21st - 24th June 2022

Stand 411, Hall A3

Come and meet the Glentham Life Sciences team at Analytica in Munich, which runs from 21st to 24th June 2022.

After over two years of travel restrictions and exhibition cancellations, we are excited to be returning to business as usual, with our first exhibition for 2022.

At the exhibition we will be showcasing our growing range of analytical fine chemicals and reagents, including our ion-pair reagents, solvents for HPLC/GC, indicators and laboratory essentials. The exhibition will also give us an opportunity to introduce our newly founded German subsidiary, Glentham Life Sciences GmbH, to our EU customerbase.

Please do not hesitate to book a meeting with us at the exhibition.

We look forward to seeing you there!