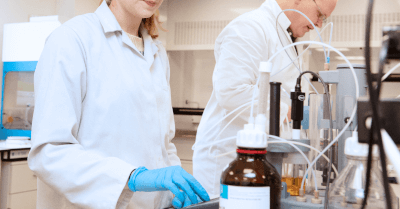 We are hiring!
As our company continues to grow and the Glentham team expands, we are looking for an enthusiastic and motivated chemist or biologist to join our lab. Please read on for the full job description.
Laboratory Technician
Permanent, Full-Time | Corsham, Wiltshire
About us
Glentham Life Sciences has been a leading manufacturer and supplier of fine chemicals and laboratory reagents to companies and institutions across the globe for almost a decade. We are looking to expand our laboratory team and maintain the high level of quality, service and product knowledge that our customers have come to expect.
Job description
At our facility in Corsham, Wiltshire, the individual's main responsibilities will cover the quality control of incoming chemical products and the small-scale manufacturing of reagents and solutions. The individual's work will also support our quality systems and customer service, handling of technical requests and generating product documentation.
Requirements and qualifications
We are looking for a self-motivated and competent individual to help towards the control and improvement of our product quality. Qualifications in chemistry, biology or similar life science are required. Experience in quality control and analysis (including HPLC) is preferred but not essential.
How to apply
To apply, please send your current CV and a cover letter to the following address:
Glentham Life Sciences
Unit 5 Leafield Way
Corsham
Wiltshire
SN13 9SW
Or e-mail
[email protected]
for more information.