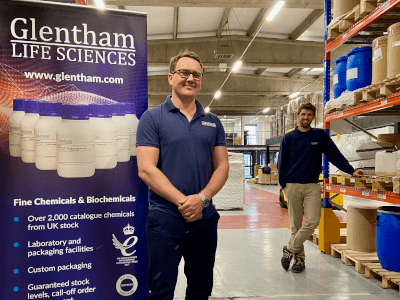 Wiltshire based company Glentham Life Sciences Ltd wins Queen's Award for Enterprise
Glentham Life Sciences Ltd, based in Corsham, has been honoured with a Queen's Award for Enterprise for International Trade 2021.
The company is one of 205 organisations nationally to be recognised with a prestigious Queen's Award for Enterprise, it has been announced today, 29th April 2021.
Glentham Life Sciences Ltd, which sources and supplies fine chemicals, biochemicals and raw materials for use in research development, production and laboratory applications, has been recognised for its excellence in international trade.
The company was founded by co-directors Sam White and Nicholas Zieleniewski in Wimbledon in 2013 and moved to Corsham in 2015 after outgrowing the original premises. In 2017, the company was awarded the Queen's Award for Enterprise for Outstanding Short Term Growth in the International Trade category, and has since gone from strength to strength.
During the accounting period considered by the 2021 award, the company doubled the number of staff from five to 10, started its own production on a small scale, averaged double the number of dispatched orders per day and is selling to more countries internationally, with key partnerships now active in countries including South Africa and Vietnam. The company has also continued to grow as an essential supplier for Covid-19 test kits and for research into Covid-19 therapies.
More recently, the firm has moved to larger premises in Corsham, increasing its warehouse space to more than 22,000 sq ft, over four times bigger than its former premises, built additional laboratory and production space to cater for the growth in this side of the business, and employed a further six staff, to 16 in total.
Sam said: "It is an honour to win a Queen's Award for the second time. The award is a tremendous achievement for our team, whose hard work has continued to drive sustained growth and success for our company."
Now in its 55th year, the Queen's Awards for Enterprise are the most prestigious business awards in the country, with winning businesses able to use the esteemed Queen's Awards emblem for the next five years.
Applications for Queen's Awards for Enterprise 2022 open on the 1st May 2021. For more information, visit
https://www.gov.uk/queens-awards-for-enterprise
.